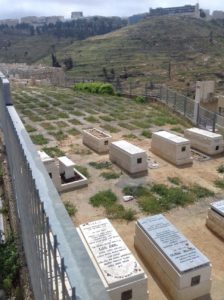 When Carole Nino's dad died a few years ago, it came to his realization that the coffin entombed in a cemetery in Paris will not be there for long. Nino who is a school principal in Paris said that their grave was purchased over 30 years ago. Plots will be sold for a limited period because of the shortage of burial land in France.
Families that fail to renew their agreed contract will have to make an additional payment, or the body of their loved one will be removed from the tomb before it is buried in a mass grave. Nino decided to sort out the whole matter by flying the remains of her late dad back to Israel for burial. He admits that they never talked about death in their family and their late father never said how or where he would want to be buried. He later joined other family members to rebury their late dad in Ashkelon, Israel.
The story of Nino's dad is just one among many of thousands of foreign residents who have made the journey back to Israel. Reports from the Israeli foreign ministry indicate that the number of those who died in foreign nations and were later on buried in Israel increased to 1590 in 2016 from the previous 850 which was recorded in 2007. This includes Israelis who died while on vacation.
History of Jewish Burial Places
Ya'akov Zvi Levin and Miriam who visited Israel over the years decided Israel would be their final resting place. Their tombs in the cemetery in Mount Scopus, Jerusalem have been there since early 90's. Their kins who visited their graves at a later date said the two made sure they bought their plots early. A lot of American names can be found in the Israeli tombs followed by France, Britain, Canada, Belgium, and Russia in that order. Many Jews believe getting buried in Israel will give them a straight pass to heaven, but Rabbi Jacob Ruza differs by saying that the location of the dead does not matter in the second coming of the Messiah.
Overcoming the Bureaucracy
Several companies that deal with bringing dead Jews back abroad from burial have emerged over the recent years. They insist on giving the deceased Jewish families the peace of mind needed and also assure others of burial in their native country. However, some Jews insist that their bodies should be cremated and ashes buried in Israel, according to Alon Native who is a chief executive of the secular burial body. Jerusalem has the highest record of burials for foreigners compared to other places. Jews from foreign countries prefer Jerusalem as their final resting place, states Chananya Shachor. Many of them buy their graves when they are still alive.
Prices
Money is still a key factor of consideration among many Israelis who have taken a cover for their burial costs. Burial and cemetery prices also vary from one burial site to another and the services offered. High burial prices have been a concern in various parts of Israel because of lack of enough land or space to bury. This even initiated a debate in Israel's legislative assembly popularly known as Knesset where a bill that saw the reduction of the number of plots sold to foreigners reduced. However, it did not pass. Many foreign Israelis have and are still taking matters in their hands to ensure their kins are buried in their native Jewish land.
Jews in Foreign Nations Really Want to Be Buried in Israel